Wow, what a maize silage harvest!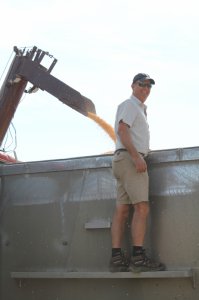 We started two weeks earlier than usual and finished four weeks earlier than normal. Luckily we had the weather on our side for such a compact and hectic season.
All the Team stepped up and did a fantastic job, ensuring all crops were harvested at their optimal time resulting in maximum yields. Always done with a sense of humour and the usual Team Bradfields efficient, professional manner. Well done Team!!
On top of everything going on and maize crops coming off early we also had an early maize grain harvest. Yields were surprisingly good, considering the drought.
For people who are looking at retiring, or just stepping back, leasing your land, or growing your own maize crop (of which we can manage for you) can be an attractive option.
With the climatic conditions this summer/autumn, under sowing has been in high demand to regenerate depleted pastures. We have had great results from our new Gaspardo Drill, which has the ability to sow seed and fertiliser.
Our new West muck spreader has also been flat out, clearing out sand traps and effluent ponds ready for the wetter months. Returning nutrients back into pastures where it's needed. It is showing to do an awesome job spreading organic fertilizer such as chook manure.
Our earth moving scoops have just completed a 10km race job in Cambridge. We have the highest capacity scoop in the area, proving to be the cheapest way to move earth.
Our fleet of trucks have completed the metalling of these races….if you require yours to be upgraded, give us a call.
If you haven't sorted out your calf pens and stand-off pads, phone us immediately. We are one of the largest suppliers of animal bedding in the area, able to provide a range of products to suit your needs.
We are experiencing high demand for Baleage and supplies are limited. We do have an amount of high quality, nutrient dense maize bales available.
This is a great time to carry out winter spraying of your pastures. After the drought many pastures are heavily infested with weeds, and with under sowing paddocks, you need to eliminate competition to give those new pastures their best chance.
We are anticipating next year being another high demand maize season. This is a great time to look forward, before you get too bogged down with calving. We can help with your feed requirements and planning.
Finally, a BIG thanks you to all our wonderful clients and business partners. It is always a please to deliver a high quality and professional service to you.