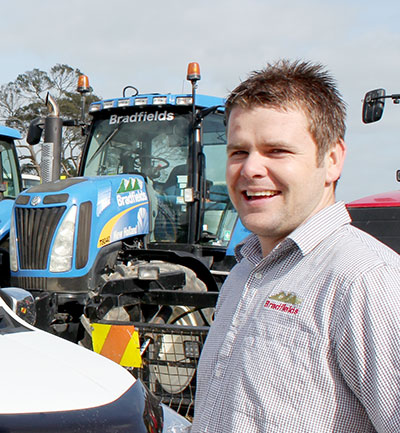 Bradfields latest addition to the management team comes with experience in both farming and contracting. Jono Gibbs has successfully managed high performing large herd dairy farms as well as worked with contractors in the South Island.
Jono believes this combined experience helps him to better understand both his drivers, and clients, in his new role as Bradfields Operation Manager "I know how important it is to have a skilled contracting firm like Bradfields on farm."
Bradfields are consistent with the tools, machinery and skilled operators they employ. "Greater capacity, combined with diagnostic tools such as Smart track, means our farmers are guaranteed to have an accurate spray out, planting and harvest" says Jono.
Many of Bradfields clients that have previously dealt with Rex Fare for their ground preparation and crop planting can now give Jono a call. He will organise all spraying out, cultivation and planting of crops including; maize, turnips and whole crops.
Rex is enjoying the challenge of his new role. "We identified that as we grow we needed to keep a close eye on quality control" says Rex who's new position comes with its own set of challenges, especially at this time of year. "It is my job to ensure Bradfields delivers a consistent service while streamlining systems in the field, workshop and through operator training."
Owner operator Kevin White is enthusiastic too "We are excited to have Jono in the office with Rex and Phill. He brings plenty of practical knowledge and expertise with him. It also means that Bradfield's is growing and our capacity is increasing and that's exciting!
So what else is happening with Team Bradfield this spring? "We have done a lot of research into beet growing, and subsequently purchased a new 12 row beet planter. What's exciting about this is, given the right conditions, it can yield 30-40 tonnes per hectare and is great form of stock feed" says Kevin "In addition we have a new 980 forager. This is the largest machine that Class make and will join our other GPS kitted out harvesters."   In fact many of Bradfields machines are fitted with GPS, from spray trucks to the three planters which also have post emergent sprayer too.
So to get your crops in the ground, give Jono a call at Bradfields.